I'm not sure which of these adaptors are actually included in this product? is it all of the adapters in the main image?

I need an adapter to attach my Avid Juicy 5 front brake to a new Rock Shox Pike post mount fork. Am i right to think that the +20mm front post mount adapter would convert Avid brakes to a post mount fork & 180mm rotor? If this is the closes could I then use washers to add space so my brake callipers align properly with my 185mm rotors?
1 month, 4 weeks ago
by
Anonymous
Southampton,GB
0
out of
0
found this question helpful.
Was this helpful?
helpful
0
unhelpful
0
http://answers.chainreactioncycles.com/answers/5230-en_gb/product/prod75477/question/1431021/undohelpfulness.djs?format=embeddedhtml&sessionparams=__BVSESSIONPARAMS__&return=__RETURN__&innerreturn=http%3A%2F%2Fanswers.chainreactioncycles.com%2Fanswers%2F5230-en_gb%2Fproduct%2Fprod75477%2Fquestions.djs%3Fformat%3Dembeddedhtml%26scrolltotop%3Dtrue%26expandquestion%3D1431021&user=__USERID__&authsourcetype=__AUTHTYPE__&submissionparams=__BVSUBMISSIONPARAMETERS__&submissionurl=__BVSUBMISSIONURL__
Answers
Answer: 
Yes, you will need a 'Front 180mm', '20PM' or '+20mm post-to-post' adaptor to connect the Juicy caliper and Pike forks. This will push the caliper out to 180mm, and you can use a few washers to space the caliper up a little higher (2.5mm) to line it up with a 185mm rotor.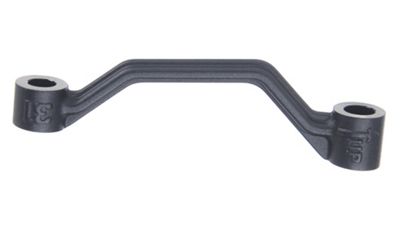 Hayes Adapter-OEM Front PM - 7"
1 month, 3 weeks ago
by
0
out of
0
found this answer helpful.
Was this helpful?
helpful
0
unhelpful
0
http://answers.chainreactioncycles.com/answers/5230-en_gb/product/prod75477/answer/1395581/undohelpfulness.djs?format=embeddedhtml&sessionparams=__BVSESSIONPARAMS__&return=__RETURN__&innerreturn=http%3A%2F%2Fanswers.chainreactioncycles.com%2Fanswers%2F5230-en_gb%2Fproduct%2Fprod75477%2Fquestions.djs%3Fformat%3Dembeddedhtml%26scrolltotop%3Dtrue%26expandquestion%3D1431021%26expandanswer%3D1395581&user=__USERID__&authsourcetype=__AUTHTYPE__&submissionparams=__BVSUBMISSIONPARAMETERS__&submissionurl=__BVSUBMISSIONURL__