I bought the Hayes dyno comp mtb brakes from you and \I need to replace the rear disk brake pad what ones would suit that brake and not scream when they are wet like the old ones did thanks
John
Attitude: 
Passionate and Obsessive
10 months ago
by
Aberdare,GB
0
out of
0
found this question helpful.
Was this helpful?
helpful
0
unhelpful
0
http://answers.chainreactioncycles.com/answers/5230-en_gb/category/subcat174/question/1364151/undohelpfulness.djs?format=embeddedhtml&sessionparams=__BVSESSIONPARAMS__&return=__RETURN__&innerreturn=http%3A%2F%2Fanswers.chainreactioncycles.com%2Fanswers%2F5230-en_gb%2Fcategory%2Fsubcat174%2Fquestions.djs%3Fformat%3Dembeddedhtml%26scrolltotop%3Dtrue%26expandquestion%3D1364151&user=__USERID__&authsourcetype=__AUTHTYPE__&submissionparams=__BVSUBMISSIONPARAMETERS__&submissionurl=__BVSUBMISSIONURL__
Answers
Answer: 
Inevitably disc brakes will squeak to a certain degree when they are wet; however to lower this sound you could run Organic pads but they are not every efficient when wet.
Semi-Metallic although can be quite loud; definitely provide better stopping power when they get soaked.
Be sure to always 'bed' new pads in correctly to ensure the rotor is coated evenly; this will also lower the intensity of rotor scream.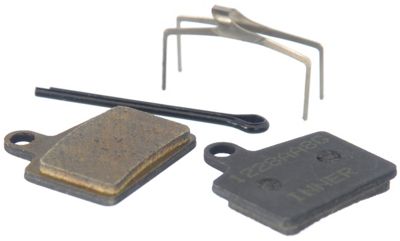 Hayes Hayes Dyno-Ryde Sport Brake Pads
10 months ago
by
1
out of
1
found this answer helpful.
Was this helpful?
helpful
1
unhelpful
0
http://answers.chainreactioncycles.com/answers/5230-en_gb/category/subcat174/answer/1328271/undohelpfulness.djs?format=embeddedhtml&sessionparams=__BVSESSIONPARAMS__&return=__RETURN__&innerreturn=http%3A%2F%2Fanswers.chainreactioncycles.com%2Fanswers%2F5230-en_gb%2Fcategory%2Fsubcat174%2Fquestions.djs%3Fformat%3Dembeddedhtml%26scrolltotop%3Dtrue%26expandquestion%3D1364151%26expandanswer%3D1328271&user=__USERID__&authsourcetype=__AUTHTYPE__&submissionparams=__BVSUBMISSIONPARAMETERS__&submissionurl=__BVSUBMISSIONURL__