I need a new rear wheel for my wife's old 26" mtb. It's old enough that it still uses calliper brakes, and I don't want to spend too much or I'll double the value of the entire bike! What do you recommend? It runs a 9speed shimano cassette. Thanks.
1 year ago
by
Anonymous
Curtin,AU
2
out of
6
found this question helpful.
Was this helpful?
helpful
2
unhelpful
4
http://answers.chainreactioncycles.com/answers/5230-en_gb/category/subcat161/question/1160361/undohelpfulness.djs?format=embeddedhtml&sessionparams=__BVSESSIONPARAMS__&return=__RETURN__&innerreturn=http%3A%2F%2Fanswers.chainreactioncycles.com%2Fanswers%2F5230-en_gb%2Fcategory%2Fsubcat161%2Fquestions.djs%3Fformat%3Dembeddedhtml%26scrolltotop%3Dtrue%26expandquestion%3D1160361&user=__USERID__&authsourcetype=__AUTHTYPE__&submissionparams=__BVSUBMISSIONPARAMETERS__&submissionurl=__BVSUBMISSIONURL__
Answers
Answer: 
Rim brake wheels are not as common as they once were and the only set we have available is as listed below.
If they are not really what you were looking for; please drop us an email to the Technical Department and a custom build may be preferable.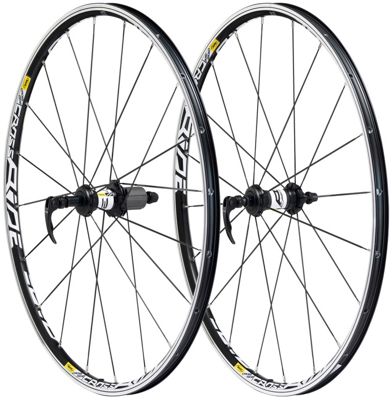 Mavic Crossride UB MTB Wheelset 2014
(
1
)
1 year ago
3
out of
3
found this answer helpful.
Was this helpful?
helpful
3
unhelpful
0
http://answers.chainreactioncycles.com/answers/5230-en_gb/category/subcat161/answer/1113868/undohelpfulness.djs?format=embeddedhtml&sessionparams=__BVSESSIONPARAMS__&return=__RETURN__&innerreturn=http%3A%2F%2Fanswers.chainreactioncycles.com%2Fanswers%2F5230-en_gb%2Fcategory%2Fsubcat161%2Fquestions.djs%3Fformat%3Dembeddedhtml%26scrolltotop%3Dtrue%26expandquestion%3D1160361%26expandanswer%3D1113868&user=__USERID__&authsourcetype=__AUTHTYPE__&submissionparams=__BVSUBMISSIONPARAMETERS__&submissionurl=__BVSUBMISSIONURL__