i want a foldable 29er tyres, there a sport 29er version at 980gr and the protection 29er at 850gr. the one you sell comme with wich casing TPI? black chilly or not ?
i want a grippy tyre with solid sidewal too mount it tubeless and i don't mind the extra weight for for more rubber
Attitude: 
Passionate and Obsessive
10 months ago
by
loreteville,CA
0
out of
0
found this question helpful.
Was this helpful?
helpful
0
unhelpful
0
http://answers.chainreactioncycles.com/answers/5230-en_gb/product/prod62975/question/1100547/undohelpfulness.djs?format=embeddedhtml&sessionparams=__BVSESSIONPARAMS__&return=__RETURN__&innerreturn=http%3A%2F%2Fanswers.chainreactioncycles.com%2Fanswers%2F5230-en_gb%2Fproduct%2Fprod62975%2Fquestions.djs%3Fformat%3Dembeddedhtml%26scrolltotop%3Dtrue%26expandquestion%3D1100547&user=__USERID__&authsourcetype=__AUTHTYPE__&submissionparams=__BVSUBMISSIONPARAMETERS__&submissionurl=__BVSUBMISSIONURL__
Answers
Answer: 
This tyre (29x2.2) has a 84TPI, does not have the BlackChili compound and is not UST tubeless.
It is the 'Sport' version which is designed to be ran with a traditional tube.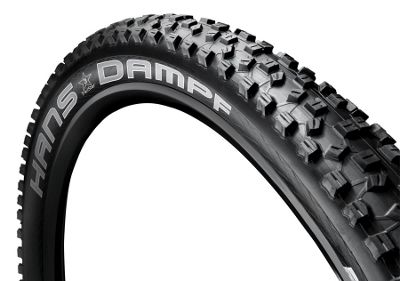 Schwalbe Hans Dampf MTB Folding Tyre - Trailstar
(
18
)
10 months ago
0
out of
0
found this answer helpful.
Was this helpful?
helpful
0
unhelpful
0
http://answers.chainreactioncycles.com/answers/5230-en_gb/product/prod62975/answer/1046221/undohelpfulness.djs?format=embeddedhtml&sessionparams=__BVSESSIONPARAMS__&return=__RETURN__&innerreturn=http%3A%2F%2Fanswers.chainreactioncycles.com%2Fanswers%2F5230-en_gb%2Fproduct%2Fprod62975%2Fquestions.djs%3Fformat%3Dembeddedhtml%26scrolltotop%3Dtrue%26expandquestion%3D1100547%26expandanswer%3D1046221&user=__USERID__&authsourcetype=__AUTHTYPE__&submissionparams=__BVSUBMISSIONPARAMETERS__&submissionurl=__BVSUBMISSIONURL__