Ridley Asteria 7D9 Frameset
The flagship of Ridley's women's fleet, the Asteria is the logical choice for anyone seeking an anatomically designed, full-carbon frame for training, racing, or long-distance weekend rides. The Asteria frame utilizes everything that Ridley's pro teams have come to rely on -- blends of 30- and 24-ton high-modulus carbon fibre, and the proprietary Sharp Edge tube construction. By placing 30t carbon where the frame encounters the most flex, and 24t where flex is naturally minimal, Ridley is able to increase locational strength and reduce the overall weight of the frame. The use of Sharp Edge tubing throughout the frame maximizes lateral stiffness while also reducing the bikes aerodynamic profile in the wind. This makes for better dampening on rough roads, extended comfort over long distances, and the elimination of feeling like you're tied to a sail in a crosswind. Also adding to the aerodynamic profile, Ridley included its 4ZA R-Blade carbon fork to reduce drag. The carbon fibre construction enhances the handling characteristics of the frame, and provides snappy handling through winding curves and sprints.
Though the frame material of the Asteria is what you rely on to deliver your sprint to the line, its geometry is what will get you there after a 100 miles of racing. The Asteria is designed to accommodate female proportions, and to do this, it features a shorter top tube and seat tube. This makes the tug-of-war ratio between ideal reach and stand-over a non-issue, as the front and rear triangles have been modified to deliver a nearly-identical riding experience as the Ridley Damocles through descents, sprints, and climbs. To maintain characteristic similarity, the Asteria has a tightened head tube angle that's been countered with a broader seat tube angle. This creates a wheel base that minimally longer than the Damocles, but also provides its own comfort advantage on long pulls and descents.
Specifications:
Seatpost Size: 30.9mm

Seat Clamp: 34.9mm

Front Mech Clamp: 34.9mm

BB Shell: 68mm
Headset Size/Type: 1 1/8" Integrated Campag Type (Not Included)
Geometry: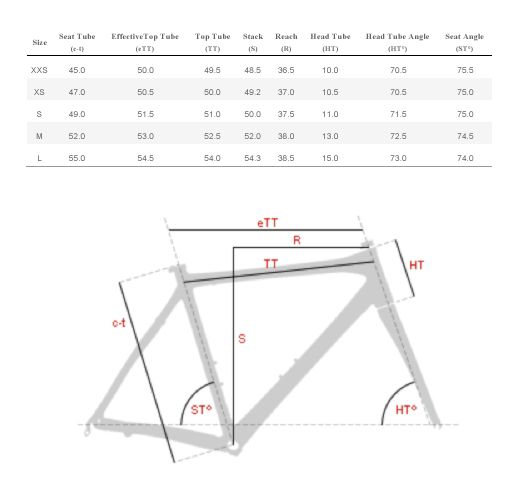 Buy Ridley Asteria 7D9 Frameset from Chain Reaction Cycles, the World's Largest Online Bike Store.