Can you recommend a decent tyre solution for the above terrain? My local route encompasses trail, off-road and some cycle path, but plan to do more trail/off road in the coming weeks/months. Currently running Specialized aground control 29x2.3 (F) and 29x2.1 (R).
2 months, 3 weeks ago
by
Ingleby Barwick,GB
13
out of
14
found this question helpful.
Was this helpful?
helpful
13
unhelpful
1
http://answers.chainreactioncycles.com/answers/5230-en_gb/category/subcat160/question/1139790/undohelpfulness.djs?format=embeddedhtml&sessionparams=__BVSESSIONPARAMS__&return=__RETURN__&innerreturn=http%3A%2F%2Fanswers.chainreactioncycles.com%2Fanswers%2F5230-en_gb%2Fcategory%2Fsubcat160%2Fquestions.djs%3Fformat%3Dembeddedhtml%26scrolltotop%3Dtrue%26expandquestion%3D1139790&user=__USERID__&authsourcetype=__AUTHTYPE__&submissionparams=__BVSUBMISSIONPARAMETERS__&submissionurl=__BVSUBMISSIONURL__
Answers
Answer: 
A tyre with good rolling resistance appears to be what would be ideal for the riding conditions explained.
The HighRollers front and rear would be fine or combined with another tyre with the HighRoller only on the rear.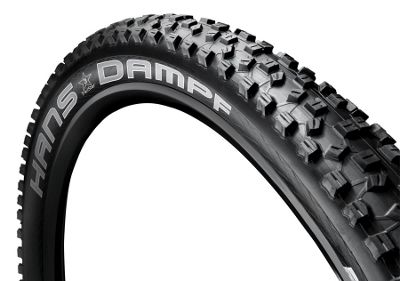 Schwalbe Hans Dampf MTB Folding Tyre - Trailstar
(
17
)
2 months, 3 weeks ago
2
out of
3
found this answer helpful.
Was this helpful?
helpful
2
unhelpful
1
http://answers.chainreactioncycles.com/answers/5230-en_gb/category/subcat160/answer/1083764/undohelpfulness.djs?format=embeddedhtml&sessionparams=__BVSESSIONPARAMS__&return=__RETURN__&innerreturn=http%3A%2F%2Fanswers.chainreactioncycles.com%2Fanswers%2F5230-en_gb%2Fcategory%2Fsubcat160%2Fquestions.djs%3Fformat%3Dembeddedhtml%26scrolltotop%3Dtrue%26expandquestion%3D1139790%26expandanswer%3D1083764&user=__USERID__&authsourcetype=__AUTHTYPE__&submissionparams=__BVSUBMISSIONPARAMETERS__&submissionurl=__BVSUBMISSIONURL__