Oakley Jawbreaker Iridium Sunglasses
To overcome the limited field of view in conventional sunglasses, Oakley has teamed up with Mark Cavendish to produce the Jawbreaker. With a field of view that's 44% larger than standard glasses, there are fewer blind spots and greater protection. The Jawbreaker is the ultimate in sporting design.
Switchlock™ Technology & Adjustable Stems
The addition of Switchlock™ Technology for easy lens changing and adjustable stems that adjust to three different lengths for helmet compatibility make these the most versatile cycling specific glasses yet.
Impact Resistance With High Definition Optics®
This lightweight yet durable performance sunglass features impact resistance and optical precision at the level of ANSI Z87.1, and with the Polaric Ellipsoid™ geometry of High Definition Optics®, you'll have razor-sharp vision at every angle of view.
Comfortable, Secure Fit
Jawbreaker offers everything from surge ports for cooling airflow to Unobtainium® components for a comfortable, secure fit. With the hassle-free lens changing of Switchlock and lots of lens options available for all kinds of light conditions, the Jawbreaker answers the wish list of world-class athletes.
CRC Staff Verdict
Garth: "The Jawbreakers are such a versatile pair of sunglasses as there are lots of lenses available for them and changing them is a breeze. The adjustable stems mean you can customise the fit so they are compatible with pretty much every helmet on the market. The amount of coverage is amazing and having seen the extent to which Oakley test their lenses against impacts, the level of protection that these glasses provide is incredible."
Technologies: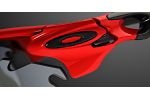 Switchlock™: To make the process of lens changing fast, easy and hassle-free, this technology uses a simple switch mechanism to release the mounted lens so a new one can be locked in instantly. It lets athletes adapt their vision and keep up with changing light.
---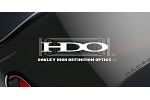 High Definition Optics® (HDO®): HDO® is a collection of patented technologies that allow Oakley eyewear to meet or exceed the testing standards of the American National Standards Institute for optical clarity, visual fidelity, and impact resistance.
Features:
44% larger field of view than standard dual lens sunglasses
Easy, hassle-free lens changing with Switchlock™ Technology
Full frame protection that extends around the entire perimeter of the lens providing superior impact resistance
Optimised airflow prevents fogging up and provides excellent venilation and comfort
Soft Unobtainium® ear socks and nose pad increase adhesion when wet to grip better when you perspire
Premium Iridium® lens coating is made with superheated metal oxides and is designed to balance light transmission and reduce glare
High Definition Optics® provides incredible optical clarity and razor-sharp vision at every angle of view.
Lens Specifications:
Included Lens: Standard Black Iridium
Light Transmission: 10%
Light Conditions: Bright light
Contrast: Neutral
Base Lens Colour: Grey
Frame Specifications:
Frame Fit: Standard Fit
Lens Width: 131mm
Bridge Width: 0mm
Lens Height: 53mm
Temple Arm Length: 121mm
Buy Oakley Accessories from Chain Reaction Cycles, the World's Largest Online Bike Store.